Our History
Beth El Congregation began in 1859 when four Jewish families settled in Rockingham County.
Eight years later, regularly scheduled religious services began in a rented room. Our first Torah (which is still in use!) was purchased in 1870. Land for the Jewish cemetery was acquired in 1876, and the following year Hebrew Friendship Congregation was chartered. On July 4, 1891, the cornerstone was laid for the first synagogue in the area.
The synagogue in downtown Harrisonburg was our home for more than 70 years, until 1964, when the cornerstone was laid for our present Temple. The name of the Congregation was changed from Hebrew Friendship to Beth El, House of God.
Our Mission
The purpose of this reform congregation shall be to worship God in accordance with the faith of Judaism; to cultivate a love and understanding of the Jewish heritage; to strengthen the ties within the Jewish community; to strengthen the bonds of loyalty with the Jewish people everywhere; to bring nearer the Dominion of God on earth through an emphasis on the principles of righteousness and harmony in society at large, and to engage in social action projects in pursuit of social justice and Tikkun Olam (repair of both the human and nonhuman components of the world).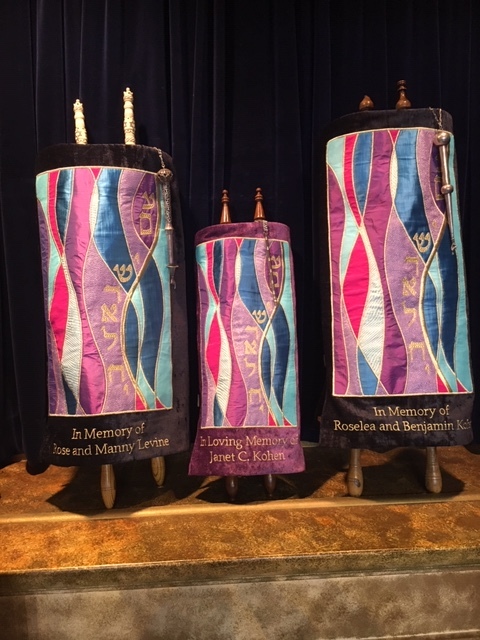 These are the new Torah mantles dedicated at the Shabbat service on 9.6.19 as Rabbi Grumbacher officiated at his first service at Beth El.
Supporting our CongregatioN:
Please remember to support Beth El with your purchases at Food Lion, Martins, and online at Amazon. More details here.
The URJ has awarded Beth El Congregation "Exemplar Congregation" status for a disability-friendly building and processes (dietary considerations at onegs, disability outreach, and the like). The Board put considerable thought and effort into the application after we had been recommended for the award by Rabbi Lynne Landsburg.

Social Action:
Consider a donation to the Suitcase Clinic. The Sisterhood will be collecting items for patients and their families for this vital organization. Winter hats & gloves for children and adults, diapers, and feminine products are in particularly short supply. There is a bin in the temple foyer. You may also make a monetary donation thru Beth El.
The Beth El Sisterhood has installed an AED (Automated External Defibrillator) in the Social Hall. There is a sign near the bathroom indicating where the AED is located. It is our fervent prayer this device will never need to be used, but feel confident, that if it is needed and used, it is safe and YOU just might save a life.